8 But my eyes are fixed on you, O Sovereign LORD;
in you I take refuge—do not give me over to death.
 9Keep me from the snares they have laid for me,
from the traps set by evildoers.
 10Let the wicked fall into their own nets,
while I pass by in safety.
                               Psalm 141:8 (New International Version)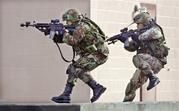 Media Picture -Credit belongs to:  UNKNOWN
 4Let them be confounded and put to shame that seek after my soul: let them be turned back and brought to confusion that devise my hurt.
 5Let them be as chaff before the wind: and let the angel of the LORD chase them.
 6Let their way be dark and slippery: and let the angel of the LORD persecute them.
 7For without cause have they hid for me their net in a pit, which without cause they have digged for my soul.
 8Let destruction come upon him at unawares; and let his net that he hath hid catch himself: into that very destruction let him fall.
                                         Psalm 35:4-8 (King James Version)
------------------------------------------------------------------------------------------------------

Dedications for this Poem and Webpage:
Dedicated to all WARRIORS serving in ALL BRANCHES of the US military.
Dedicated to all US WARRIOR VETERANS.
Dedicated in particular to "MY" US SOLDIER WARRIOR:
Graham Binkley
------------------------------------------------------------------------------------------------------

THE U.S. SOLDIERS GRADUATION
(Capitalized words are from ARMY Creed/Value/Motto/Song/etc. documents)
(NOTE: "He" = he/she)
(June, 2007)
Brave American Soldier stands in earned beret
         —so buff and handsome in blue.
He NEVER QUITS NOR ACCEPTS DEFEAT!
         ...Mark the distance—OSUT is through!

He's finished the course, Graduation's here
         And soon he will hear his cue
To be honored as PHYSICALLY AND MENTALLY TOUGH,
         DISCIPLINED, shrewd and sinew.

He has proven he is TRAINED AND PROFICIENT
         In his WARRIOR TASKS AND DRILLS;
He has proven he is an EXPERT
         And a PROFESSIONAL in his SKILLS;

Brave Soldier stands cued to present himself
         To the world as tough-and-ready WARRIOR—
An ARMY OF ONE morphed into a MEMBER OF A TEAM
         Proven and recognized as world-superior.

As this brave soldier pledges in honor and duty to
         SERVE THE PEOPLE OF THE UNITED STATES,
And to defend the "WE THE PEOPLE" CONSTITUTION,
         --The Brave SELF-LESS Soldier puts his own dreams on hold…and waits.

With courage he has passed the test and is now
         GUARDIAN of the American people--
Pledged To Protect the American WAY OF LIFE,
         Their rights, their freedoms and their steeple
Pledged to honor those Warrior VETERANS before him
         By being of Warriors a Replica
A Warrior who hunts down and destroys the enemies
         Of the United States of America.

Brave Soldier stands cued in SELFLESS SERVICE
         To do his DUTY and be LOYAL,
With PERSONAL COURAGE TO FACE FEAR, DANGER
         OR ADVERSITY (PHYSICAL OR MORAL)

He vows to do what's right in INTEGRITY
         And with due RESPECT and HONOR—
Because his beloved country is THE UNITED STATES OF AMERICA
         And he bestows homage upon her.

Brave Soldier stands cued to be numbered among THE TRUE
         And be counted among THE BRAVE
Who stand in the gap to purchase "DAWN'S EARLY LIGHT"
         So our "FLAG WILL ALWAYS WAVE."

And as Brave Soldier pledges, "THE ARMY IS ON ITS WAY,"
Now, forever, will he be
That "G.I. JOE," GALVANIZED IRON, leader of leaders, shouting
         I'm "INFANTRY" — "FOLLOW ME."


Our prayers will always be embedded
         Within INFANTRY rank and file
As our Soldiers fight for family, country, and comrades
         --Fight for all we count worthwhile;

For where e'er they go, I will always know
         That amongst that courageous BAND OF BROTHERS
God counts dear and clearly hears
         MY G.I.'s voice in concert with those brave others.

Gen. Eisenhower said to Soldiers "THE EYES OF THE WORLD ARE UPON YOU
         As you fight against the wrong!"
We say, America, again now harken as Mighty Infantrymen
         "COUNT OFF THE CADENCE LOUD AND STRONG."

As he volunteers to FIGHT TO BUILD OUR NATION'S MIGHT
         During perilous times and stormy,
You'll hear that Warrior say, "I AM AN AMERICAN SOLDIER"
         --Proud member of the U.S. ARMY. 


                                --Joan Binkley
                                (Copyright by Joan Binkley, June, 2007)
                                (May be printed and copied but please give credit)
-----------------------------------------------------------------

POEM NOTES:
G.I. = "Galvanized Iron" / "Ground Infantry"

WHEREAS, FORTUNATELY, WE THE AMERICAN PEOPLE, have been honored through the years with the dedication and allegiance of each individual Soldier, and especially the volunteer Soldier, who has joined himself in pledge to become one great military body with many branches in defense of our great country; but

WHEREAS, WE THE AMERICAN PEOPLE, HOWEVER, sometimes lose sight of the great patriotism and dedication borne by these individual volunteer Soldier Warriors And Veterans Who Take To Heart Their Pledge Of Honor to Defend the American People;


THEREFORE, WE THE AMERICAN PEOPLE, would like to renew our respect and thanks to all of our Mighty Soldier Warriors and Veterans throughout the military branches; and

THEREFORE, BECAUSE the ARMY INFANTRY is one representative Branch of our Great and Mighty Branches of Military Service;

HENCE THIS POEM, although based on the ARMY INFANTRYMAN serves as a snapshot representative of all of our Mighty Branches of Military Service.

THIS POEM is based on the following military documents:
The Soldier's Creed / The Army's Values / The Army's Official Song / The Army's Motto "I'M INFANTRY – FOLLOW ME"/ and upon "G.I." – An acronym that has through the years enduringly and endearingly stood for "Galvanized Iron" and "Ground Infantry"
------------------------------------------------------------------------------------------------------